As the temperatures drop and it gets chilly outdoors, we are bringing the chili indoors with our annual Chili Cook-off! If a chili cook off in the Southern Made office reminds you of Kevin's iconic chili drop from The Office, you have the right idea.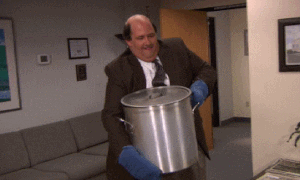 The history of Southern Made's chili cook-off is long and winding, dating back to 2015. But the first official cook-off was held in the fall of 2017. The first year brought stiff competition, with Nick McIntyre taking home (to his desk) the 3D printed Grand Prize Chili Trophy. But we can't forget about the winner for spiciest chili, Kyle Runner! Fun was had and chili was consumed, but everyone knew that 2018 would be even more epic.
A Chili Cook-Off Poem…

Twas the night before the Chili Cook-off, when all through the office
every employee was stirring, including ole Chris.
The ladles were hung in the kitchen with care,
in hopes that the trophy soon would be theirs.
The judges sat hungry in front of their screens,
while visions of chili were all they could see.
And Luiggi with his bowl and Adam with his spoon,
were anxious for chili coming very soon…
In 2018, the competition brought even more heat… literally. With four contestants and two prizes, there was a lot on the line. Everyone took their Chili tasting very seriously. Some people (cough cough Luiggi) even wanted to kick it up a notch and add Takis to their Chili.
After a lot of chili tasting and much deliberation, the winners were decided. Nick McIntyre took home the Grand Prize Trophy (again!) and Cameron Dykes won Spiciest Chili!
Will someone rise to the occasion to challenge Nick next year? Will Luiggi ever win Spiciest Chili? A lot remains to be seen.
Well, you know what they say: "Chili today, hot tamale!"